FDA approves Xultophy

Xultophy (IDegLira) is an injectable fixed-dose combination drug consisting of insulin degludec 100 units/mL (Tresiba) and liraglutide (Victoza), a GLP-1 receptor agonist. Novo Nordisk's Xultophy 100/3.6 can be taken at the same time each day with or without food and will be available in a prefilled pen. It delivers doses from 10 to 50 units with each injection, and each unit of Xultophy 100/3.6 contains 1 unit of insulin degludec and 0.036 mg of liraglutide.The maximum dose of 50 units corresponds to 50 units of insulin degludec and 1.8 mg of liraglutide.
Soliqua wins FDA approval
LixiLan from Sanofi, to be known as Soliqua 100/33, contains a fixed dose of insulin glargine 100 U/mL and a GLP-1 receptor agonist, lixisenatide 33 µg/mL and is indicated for once-daily dosing covering 15 to 60 units of insulin glargine and 5 to 20 µg of lixisenatide. The pen uses SoloStar technology. Soliqua 100/33 showed better HbA1c lowering versus Lantus with a majority of the 736 patients (55% vs. 30%) achieving the target of less than 7% at 30 weeks. Patients treated with Soliqua 100/33 experienced similar rates of documented (less than or equal to 70 mg/dL) hypoglycemia compared to Lantus-treated patients.
New Indication for Empagliflozin
US Food and Drug Administration (FDA) has approved empagliflozin (Jardiance) for the new indication of improving survival in adults with type 2 diabetes and cardiovascular disease (CVD). Empagliflozin produced a 38% relative risk reduction in cardiovascular mortality and a 32% risk reduction in all-cause mortality compared with placebo among the patients with type 2 diabetes. The results were the first to show that a diabetes drug offered cardiovascular benefit beyond mere glucose lowering.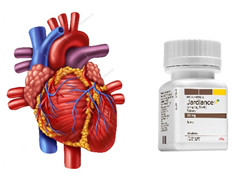 Implantable CGMS await FDA approval
Eversense (Senseonics Inc.) implantable CGM System is based on innovative fluorescence technology. / Here, a tiny sensor measures glucose from interstitial fluid below the skin surface. The sensor wirelessly sends glucose data to the smart transmitter worn on the upper arm over the sensor insertion site. The transmitter calculates the current glucose value along with the direction. In a study published in Diabetes Care, researchers implanted this CGM sensor in 71 participants age 18 years and older with type 1 and type 2 diabetes in a 180-day multinational-multicenter pivotal trial. Participants used the CGM system at home and in the clinic.
For the implantable CGM, the MARD value against the reference was 11.1%. According to Clarke Error Grid Analysis, the estimated clinical performance of the implantable CGM system indicated that 99.2% of samples were in the clinically acceptable error zones A (84.3%) and B (14.9%).
Implantable CGM systems may provide additional ease of use over transcutaneous CGM since frequent sensor insertions through the skin are not needed and the transmitter can be removed easily without the need for sensor replacement. It only need to be changed every 12-18 months; however, these implantable devices require a minor surgical procedure that may prove problematic for some patients.